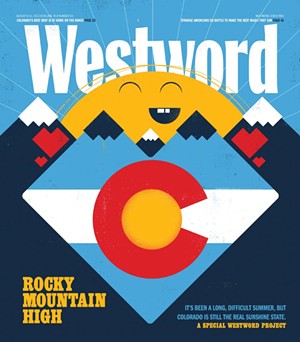 Westword
www.westword.com
969 Broadway
Denver, Colorado 80203
Phone:

(303) 296-7744

Fax:

(303) 296-5416
Circulation:

68,000 (as of June 2014)

Audited By:

Audit Bureau of Circulations

Publication Day:

Every Thursday

Market Served:

Metropolitan Denver

National Advertising:

Voice Media Group

Publishing Group:

Voice Media Group
For more than forty years, readers have relied on Westword to deliver the latest word on life in metro Denver. Every week, the print edition offers the lowdown on local issues as well as the highlights of upcoming entertainment; every day, westword.com augments that coverage with dozens of up-to-the-minute stories.

Westword's dedication to both uncovering news scandals as well as covering the cultural scene has earned the paper numerous awards over the years, everything from first place in the Livingston Awards for national news reporting and first place in the Society of Professional Journalists contest for both feature writing and column writing to first place from the James Beard Foundation for restaurant reviews.

But Westword doesn't need accolades of journalism groups to gauge impact. Judging by how quickly copies are snapped up every week and how frequently readers comment on westword.com, residents recognize that if you live in Denver, you can't live without Westword.
Search AAN News Related to Westword »