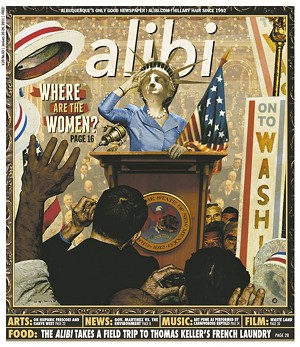 Weekly Alibi
www.alibi.com
413 Central Ave. N.W.
Albuquerque, New Mexico 87102
Phone:

(505) 346-0660

Fax:

(505) 256-9651
Circulation:

37,057 (as of June 2015)

Audited By:

Verified Audit Circulation

Publication Day:

Every Thursday

Market Served:

Greater Albuquerque and its surrounding areas (Rio Rancho, Corrales, East Mountain, Placitas, Bernalillo, Madrid and Santa Fe)

National Advertising:

Voice Media Group
Weekly Alibi is Albuquerque's most reliable source for news and entertainment the other guys ignore. Not an easy task because Albuquerque boasts one of the most culturally diverse populations in the country--people from all walks of life with all kinds of tastes and inclinations. It has been through our concerted effort to present alternative angles, our desire to provide a forum for those within the community and our award-winning writing that Weekly Alibi has achieved such status and earned the respect and loyalty of 160,000-plus readers each and every week.

Since 1992, we have presented issues that affect our readers, while offering broad coverage, provocative and insightful writing and the most complete arts and entertainment listings in the state.

We are now Albuquerque's second-largest newspaper, distributing over 50,000 copies every Thursday to more than 900 locations throughout the city and its suburbs, including clubs, restaurants, retailers, galleries, convenience stores and street-corner racks.
Search AAN News Related to Weekly Alibi »