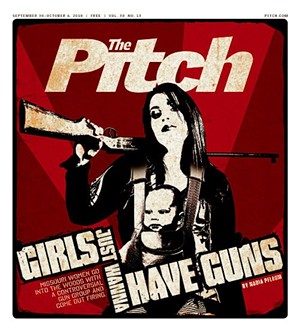 The Pitch
www.pitch.com
1701 Main St.
Kansas City, Missouri 64108
Phone:

(816) 561-6061

Fax:

(816) 756-0502
Circulation:

42,000 (as of June 2014)

Audited By:

Audit Bureau of Circulation

Publication Day:

Every Thursday

Market Served:

Metropolitan Kansas City, Lawrence, Topeka

National Advertising:

Voice Media Group

Publishing Group:

SouthComm, Inc.
Kansas City leaders may have shuttered the brothels and torn down the stockyards that once defined the town--and the mobsters may have blown themselves up in disco bombings back in the '70s--but there are still plenty of stories to tell about this metropolitan area of nearly two million sturdy Midwesterners. The Pitch tells those stories. Over more than 25 years, the paper has developed a reputation as a source of sophisticated, in-depth information Kansas City readers know they can't get anywhere else, whether it's news about crime and corruption, coverage of the area's spirited arts and music scenes, or all the juicy info on the latest barbecue joint.

The Pitch counts more than 258,000 readers who pick up the paper at more than 1,500 locations throughout western Missouri and eastern Kansas; readers across the world also look to our Web site, pitch.com, to keep up with what's happening here or to make plans whenever they're goin' to Kansas City.
Search AAN News Related to The Pitch »