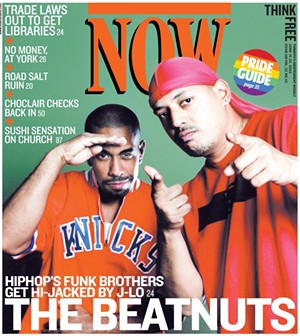 NOW Magazine
www.nowtoronto.com
189 Church St.
Toronto, Ontario M5B 1Y7
Canada
Phone:

(416) 364-1300

Fax:

(416) 364-1166
Circulation:

100,676 (as of September 2012)

Audited By:

Verified Audit Circulation

Publication Day:

Every Thursday

Market Served:

Toronto

National Advertising:

Alternative Weekly Network
NOW Magazine - winner of the Utne Reader 2001 Readers Poll Award for Local Coverage - is Canada's leading alternative news and entertainment weekly, and has been since its inaugural issue in September 1981.

Over the years NOW's weekly readership has grown to 321,000* of Canada's most influential readers and consumers.

* PMB 2009

NOW's commitment to the community is reflected in many ways -- among them sponsorship of the North by Northeast Music Festival and Conference, the Toronto International Film Festival, and many other community events through its free listing service.

NOW is proud of its reputation for covering stories that mainstream dailies avoid, challenging public opinion and opening debate on local and international issues. And the paper's comprehensive arts and entertainment coverage makes NOW the first place people look to find out what is going on in and around Toronto.

NOW is available online at www.nowtoronto.com and NOW's Wireless Edition can be accessed on most dotcom-ready phones.
Search AAN News Related to NOW Magazine »