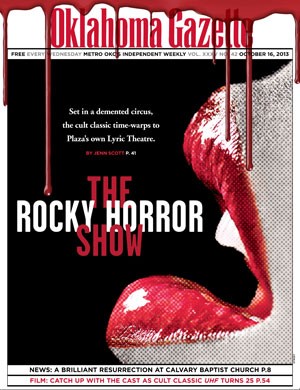 Oklahoma Gazette
www.okgazette.com
3701 N. Shartel Ave.
Oklahoma City, Oklahoma 73118
Phone:

(405) 528-6000

Fax:

(405) 528-4600
Circulation:

43,000 (as of December 2015)

Audited By:

Verified Audit Circulation

Publication Day:

Every Wednesday

Market Served:

Oklahoma City, Norman, Edmond, Moore, Midwest City, Guthrie

National Advertising:

Alternative Weekly Network
In its inaugural issue of Oct. 15, 1979, Oklahoma Gazette, at that time an upstart, bimonthly publication with a mere 2,000 circulation, featured a page-one story about the Oklahoma City Council's recent passage of an urban conservation district. Hardly sexy stuff. Yet, on its way to its current circulation of 43,000, quality of life issues remain the bedrock of this publication.

While the Gazette has grown into the largest weekly newspaper in the state, we never lose sight of our mission: to analyze, recognize, stimulate and expose.

The Oklahoma Gazette's award- winning writers tell it like it is. Our progressive approach does not always make people happy. But we provide the balance we, and our readers, think is sorely missing from our daily newspapers and electronic media outlets. We do not follow the rest of the journalism herd, noisily tramping from press- conference-to -press conference.

Instead, we look for that one thing about a story that sets off mental fireworks.

Complimenting the Gazette's thought-provoking commentary and news section is our commitment to the community with our extensive, and often exclusive coverage of local music, food and restaurants, entertainment and the arts. Our visuallyattractive design draws in readers from across the demographic spectrum, from members of the Greatest Generation to Generations X and Y.

Oklahoma Gazette does not strive to make people look good. We strive to be fair.
Search AAN News Related to Oklahoma Gazette »