Hey -- You Can't Draw That!
Copyright 1995 John Callahan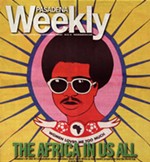 For more than 20 years the Pasadena Weekly has reigned as the San Gabriel Valley's newsweekly of record. Located just minutes from Downtown Los Angeles, the city of Pasadena is perhaps best known nationally for a certain flower-oriented parade and...
More »