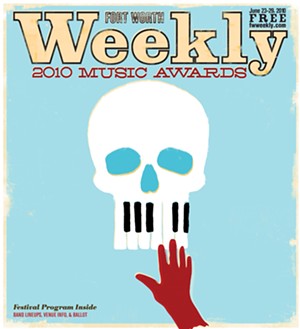 Fort Worth Weekly
www.fwweekly.com
3311 Hamilton Ave
Fort Worth, Texas 76107
Phone:

(817) 321-9700

Fax:

(817) 335-9575
Circulation:

40,000 (as of December 2014)

Audited By:

Verified Audit Circulation

Publication Day:

Every Wednesday

Market Served:

Metropolitan Fort Worth and Arlington

National Advertising:

Voice Media Group
The Weekly provides a vibrant alternative to the city's often-timid daily, with award-winning and irreverent reporters who keep readers well informed and the powers-that-be worried. The Weekly's editorial staff may have more decorations per capita than any newsroom in the country: two Pulitzer Prizes and the George Polk Award for courageous reporting, plus numerous other awards.

The Weekly makes a difference: Our stories have helped expose the corruption that brought down MCI Worldcom, sparked investigations of an alleged high-society pedophile, and helped victims of human trafficking, corporate racism, and government- sanctioned pollution receive justice.

In music, we offer in-depth c.d. reviews, a weekly column, annual music awards, and exhaustive listings of upcoming shows and gigs. Our art critics offer articulate, take-no-prisoners reviews of movies, art and museum offerings and ballet and stage productions.

The Weekly's food critics provide honest reviews of local restaurants giving us arguably North Texas' most entertaining and forthright dining-out guide, complete with local restaurant "happenings" and listings.
Search AAN News Related to Fort Worth Weekly »