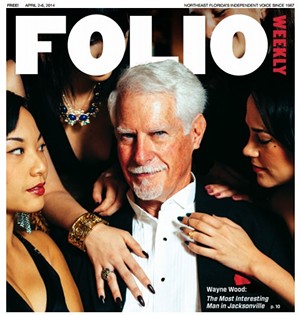 Folio Weekly
www.folioweekly.com
9456 Philips Highway, Suite 11
Jacksonville, Florida 32256
Phone:

(904) 260-9770

Fax:

(904) 260-9773
Circulation:

26,801 (as of December 2014)

Audited By:

Verified Audit Circulation

Publication Day:

Wednesday

Market Served:

Northeast Florida

National Advertising:

Alternative Weekly Network
Northeast Florida's largest circulation newsweekly is also its most influential. Since 1987, Folio Weekly has been the leading alternative voice in this booming market -- one of the fastest growing in the nation.

Folio Weekly offers the area's most comprehensive calendar of events and its best restaurant guide. This AAN award-winning magazine also covers art, music, politics, people and lifestyles like no other publication in Northeast Florida.

Each week, thousands of active, affluent readers turn to Northeast Florida's News & Opinion Magazine for a level of writing, photography, design and integrity that is unparalleled in the market. Folio Weekly's affordable prices and pickup rate make it an attractive buy for local and national advertisers alike.

Available at more than 800 distribution points from Amelia Island to St. Augustine, from the Beaches to Orange Park, as well as throughout Jacksonville, Folio Weekly is the magazine Northeast Florida reads and talks about.
Search AAN News Related to Folio Weekly »