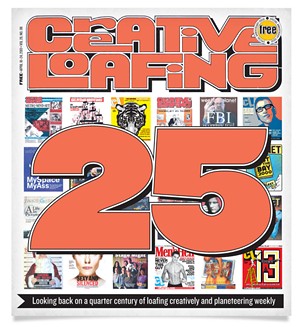 Creative Loafing (Tampa)
www.cltampa.com
204 E. Henderson Ave
Ste. W200
Tampa, Florida 33602
Phone:

(813) 739-4800

Fax:

(813) 739-4801
Circulation:

48,000 (as of June 2014)

Audited By:

Verified Audit Circulation

Publication Day:

Every Thursday

Market Served:

Tampa, St. Petersburg, Clearwater

National Advertising:

Voice Media Group

Publishing Group:

Euclid Media Group
As the third largest newspaper in the Tampa Bay area, Creative Loafing offers readers a valuable alternative to the two mainstream daily publications. Our award- winning news stories are rooted in a commitment to the community and an independent perspective that puts the greater interests of that community first.

In addition to a comprehensive listing of local happenings covering everything from gallery openings to sporting events, CL offers the Tampa Bay area the most respected and authoritative critics on the subjects of food, film, theater and music.

Plus, we're funny.

A tradition of spirited and thoughtful journalism and indispensable entertainment information has made Creative Loafing a vital voice to readers in Tampa, St. Petersburg and Clearwater.
Search AAN News Related to Creative Loafing (Tampa) »