Two Women Killed In Two Weeks: Where Does It End?
Nathan Bruce/Jackson Free Press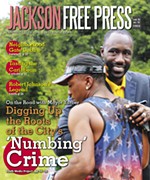 The Jackson Free Press (JFP) is Jackson's smart alternative, covering news, culture and politics for Mississippi's capital city. The JFP is Mississippi's first and only AAN publication, serving a growing metropolitan area of 450,000, including 30,000+ college students. Steeped in...
More »