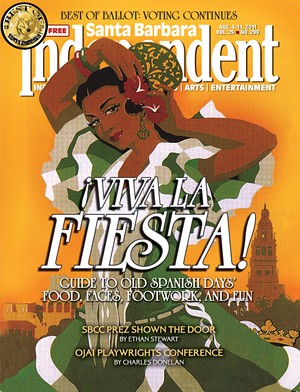 Santa Barbara Independent
www.independent.com
122 W. Figueroa St.
Santa Barbara, California 93101
Phone:

(805) 965-5205

Fax:

(805) 965-5518
Circulation:

40,323 (as of June 2015)

Audited By:

Verified Audit Circulation

Publication Day:

Every Thursday

Market Served:

Santa Barbara County

National Advertising:

Alternative Weekly Network
The Santa Barbara Independent, located in one of the California's most beautiful destination resort areas, provides the most comprehensive arts, entertainment and in-depth news coverage of the South Coast region.

The 25-year-old Santa Barbara Independent is considered a must-read by locals and tourists, both for its extensive arts coverage and its tough environmental reporting.

The Independent is actively involved in community affairs, sponsoring more than 125 charity events, nonprofit fund-raisers and community festivals.

During the past two years in statewide competitions The Independent has been recognized by the California Newspaper Publishers Association for the quality of its coverage and its editorial writing.

Through The Santa Barbara Independent, advertisers are able to reach readers in one of California's most affluent and fastest-growing regions.
Search AAN News Related to Santa Barbara Independent »