Is Barack Obama in Danger of Being Outmanned?
Chad Crowe/Boston Phoenix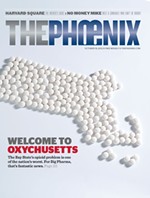 The Boston Phoenix was founded in 1966 as an arts and entertainment newspaper for the 18-40 year old market. Today, with editions in Rhode Island and Portland, Maine, the Phoenix has a distribution of 220,000 and more than 600,000 readers...
More »