Homeland Security Welfare Stories Pile Up
Tags:
Congress
,
Nevada
,
Senate
,
Calif.
,
al-Qaeda
,
chair of the House Homeland Security Committee
,
gold rush camp in the Sierra foothills
,
Nevada City
,
Nevada Sens. Harry Reid and John Ensign
,
Sen. Joe Lieberman of Connecticut
,
Sen. Susan Collins of Maine
,
U.S. Rep. Christopher Cox
,
U.S. Sen. Dianne Feinstein of California amendment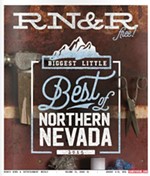 The Biggest Little City in the World has an alternative voice. Since 1995, the Reno News & Review has built a reputation around its provocative, honest coverage of news and events affecting northern Nevadans. Beyond gaming and tourism, this is...
More »