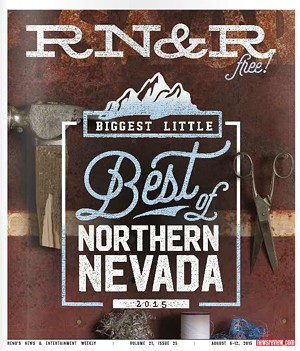 Reno News & Review
www.newsreview.com/reno/Home
405 Marsh Ave.
Reno, Nevada 89509
Phone:

(775) 324-4440

Fax:

(775) 324-2515
Circulation:

38,180 (as of June 2015)

Audited By:

Circulation Verification Council

Publication Day:

Every Thursday

Market Served:

Reno, Sparks, Lake Tahoe, Carson City

National Advertising:

Alternative Weekly Network

Publishing Group:

News & Review
The Biggest Little City in the World has an alternative voice. Since 1995, the Reno News & Review has built a reputation around its provocative, honest coverage of news and events affecting northern Nevadans.

Beyond gaming and tourism, this is an active, diverse community and the News & Review provides a newspaper that covers what readers are interested in most. We believe the community wants more than the daily paper offers. Our readers are educated, inquisitive and involved. They want in-depth coverage of what is happening in their community. We have built a trust with our readers. They want the truth and we give it to them. Because of this, they come back to our paper again and again.

The Reno News & Review has a lively mixture of news, opinion, features, commentary, arts and a comprehensive calendar of events. We have been recognized for Editorial and Advertising excellence locally and nationally, receiving the Nevada Press Association's "General Excellence" award 5 out of the last 8 years.

At the Reno News & Review, we do more than just produce an award- winning, successful newspaper. We foster long-term relationships with our clients and readers alike.
Search AAN News Related to Reno News & Review »