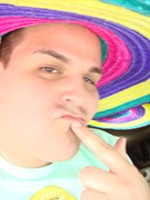 Enrique Limón
Email: available to members only
Much to the anguish of his mom's uterus, Enrique Limón was born feet first on a sunny SoCal day—he's been doing things his way ever since.

With the example of his father—a prominent printer—Limón was drawn to gonzo-style journalism at an early age. "It all started when I would snuggle up to my plush Gonzo Muppet doll as a kid. I remember being mesmerized by its long, slightly curved down nose," he says. "I've always had an oral fixation, and that doll not only fueled my passion for the craft, but kept me warm many a night," Limón reminisces with a grin.

With an emphasis on the offbeat, Limón started working as a nightlife columnist and contributing features writer at San Diego CityBeat. He currently works as Deputy Editor/Arts & Culture Editor at the Santa Fe Reporter.

The former Academy for Alternative Journalism fellow thanks this team of witchdoctors and curanderas for his meteoric rise to alt- weekly success.

"All those dead chickens were toats worth it," he says.