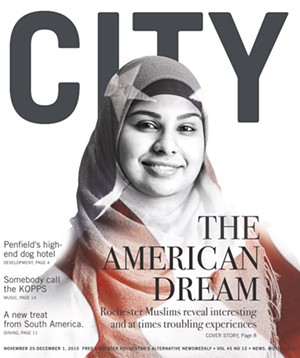 City Newspaper
www.rochestercitynewspaper.com
250 N. Goodman St.
Rochester, New York 14607
Phone:

(585) 244-3329

Fax:

(585) 244-1126
Circulation:

37,081 (as of June 2015)

Audited By:

Verified Audit Circulation

Publication Day:

Every Wednesday

Market Served:

Metro Rochester

National Advertising:

Alternative Weekly Network
City Newspaper, celebrating 45 years of publishing, is the largest-circulation newsweekly in the metro Rochester area.

Its award-winning staff provides intelligent, provocative analysis of local, national, and international issues. Jazz, rock, blues, and film writers offer lively, respected, and hotly debated coverage of their fields.

Its arts writers provide the region's best, most extensive coverage on a beat that includes a major symphony orchestra, an internationally known dance troupe, several professional theater groups, and important museums. Seasonal guides provide extensive previews and events calendars.

With an emphasis on excellence in writing, graphics, and photography, City attracts approximately 90,000 readers weekly -- professionals, community leaders, university students throughout the region who rely on the publication for thorough, engaging, alternative journalism.
Search AAN News Related to City Newspaper »