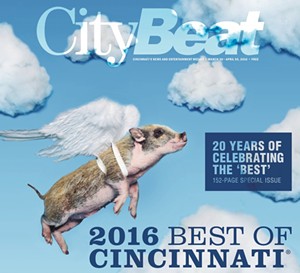 Cincinnati CityBeat
www.citybeat.com
811 Race St., Fifth Floor
Cincinnati, Ohio 45202
Phone:

(513) 665-4700

Fax:

(513) 665-4368
Circulation:

35,000 (as of June 2014 - figure submitted by publisher)

Publication Day:

Every Wednesday

Market Served:

Cincinnati and Northern Kentucky

National Advertising:

Alternative Weekly Network

Publishing Group:

SouthComm, Inc.
Life in Cincinnati has a discernible rhythm. A pulse. A beat. It takes a wily alternative newspaper to measure the contradictions and rhythms of daily life here. And that's why CityBeat exists. To pick up on the beat of a city struggling to compete in the new millennium while firmly rooted in -- some would say shackled to -- traditions of the past.

Our overriding goal has always been and remains to give voice -- through the news, arts and entertainment sections -- to those in the community who are under-covered or ignored by Cincinnati's conservative mainstream media.
Search AAN News Related to Cincinnati CityBeat »