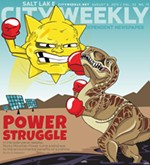 Staff Writer
Type of Position: Permanent Full-Time
City Weekly is looking for a full-time staff writer.

Successful candidates must:

- Be passionate about journalism.
- Have a minimum of 2 years of newsroom experience and proven investigative chops.
- Possess a keen knowledge of Salt Lake City, and what makes it tick.
- Be familiar with AP and alt-weekly-style writing.
- Be able to tell stories across several multimedia platforms.
- Take direction, get along with others and thrive in a deadline-driven environment.

Please send résumé and three published writing samples to elimon@cityweekly.net. Salt Lake City Weekly is an equal opportunity employer.
Respond to this posting via
email
.
Salt Lake City Weekly AAN Member Page »
Salt Lake City Weekly website »