Near-Death Study Searches for the Human Soul
Tags:
Illinois
,
a Portuguese organization research human psychology and spirituality
,
a professor of counseling at the University of North Texas and president of the International Association of Near Death Studies
,
a professor of psychiatry at the University of Virginia Health System
,
a singer-songwriter
,
Bial Foundation
,
Dr. Bruce Greyson
,
Jan Holden
,
Michael Shermer
,
Pam Reynolds
,
Park Ridge
,
publisher of Skeptic magazine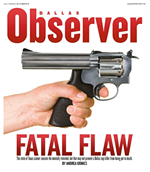 You might think that it was one of those thorny ethical conflicts. How would the Dallas Observer behave when its tough-talking former city columnist became mayor? Would we join her team? Be her pals? Suck up? Or would we keep...
More »