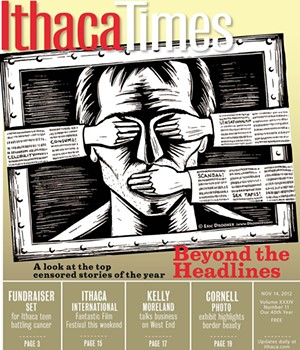 Ithaca Times
www.ithacatimes.com
109-111 N. Cayuga St.
Ithaca, New York 14851
Phone:

(607) 277-7000

Fax:

(607) 277-1012
Circulation:

18,125 (as of December 2015)

Audited By:

Figure submitted by Publisher

Market Served:

Ithaca and Tompkins County
When the managing editor of Ithaca College's student newspaper not only shut them out of the office but broke the key in the lock, the youthful targets of his draconian discipline realized they would have to find another outlet for their journalistic aspirations. Fortunately the two hooked up with the founder/ publisher of the Syracuse New Times shortly thereafter. From this unholy trinity emerged the Ithaca New Times, which debuted August 31, 1972.

The Ithaca New Times merged with another local weekly, the Good Times Gazette, in late 1977. This marriage resulted in the birth of the Ithaca Times, which has shared its quirky, often unexpected take on local events and issues with an Ithaca audience of more than 55,000 ever since.

The Times covers Ithaca with its own, somewhat nontraditional approach to journalism. Our news stories focus on the "why" in addition to providing the "who, what, where, when" and "how." Our arts and entertainment coverage is as concerned with the artists as their work. The writing style is engaging, frequently laced with humor and as individual as the writers themselves.
Search AAN News Related to Ithaca Times »