Is That Beef You're Eating Really Safe?
Gregg Matthews/Orlando Weekly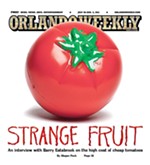 In America's theme-park Mecca, Orlando Weekly recently explored these themes: How a private group of developers pulled the strings that directed public land-use policies. How a millionaire time-share mogul made his money selling bogus promises. How an annual Gay Day...
More »