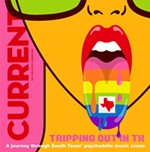 Editor-in-Chief
Type of Position: Permanent Full-Time
San Antonio Current, one of San Antonio's preeminent creative forces culturally, socially, and provocatively is looking for an Editor to lead our award-winning team of staff/freelance writers in the ever-evolving print and digital world of journalism.  We just don't report on or about San Antonio, we ARE San Antonio. While other publications focus on the city's tourists, snowbirds and suburbs, San Antonio sheds light on the people, places and things that shape the City!

Our next Editor will need to be imaginative and innovative, a driven team player and leader who loves collaborating with diverse-minded writers, artistic graphic designers, photographers, and be familiar with San Antonio's culture and political scene to produce a weekly paper, numerous special issues, and a variety of digital products.  This individual must be highly ingenious and able to do tremendous things with a limited team and financial resources.

The Editor will be responsible for maintaining the "voice" of the publication in print, digital, and in community involvement and uphold high standards of journalism and be progressive in nature.  A keen eye for detail, ability to strategize around the changes in how people receive and process information, and ability to cultivate a highly engaging, hard-working, and creative team is a must!

Show us what you're made of. We are looking for people like you to fit right in with our team! When you join San Antonio Current, we want to show our appreciation of your efforts through a competitive compensation package that includes casual dress, flexibility, weekly lunches, pet-friendly place, and access to coolest events in town and of course all of the usual stuff and much more!

Ready to get started? Please submit your resume, a creative note about what makes you unique and tick, desired salary, and a link/samples of your work/portfolio when applying.

This could be your next big career move to put your mark on San Antonio!
Respond to this posting via
email
.
San Antonio Current AAN Member Page »
San Antonio Current website »