Can the Music of Our Brains Make Us Sleep Better?
Felipe Buitrago/Metro Silicon Valley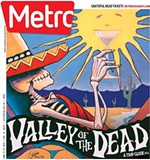 Metro was founded in San Jose, Calif., in 1985 and is Santa Clara County's largest weekly newspaper. Metro targets the most desirable consumer-spending segment in one of the nation's wealthiest metropolitan areas -- Silicon Valley. Metro focuses on the 18-to...
More »