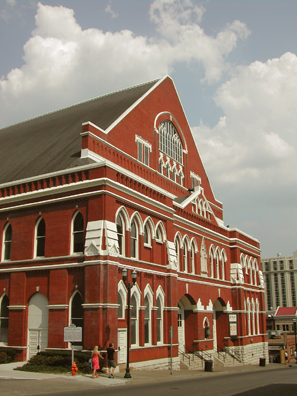 Courtesy of Nashville Convention & Visitors Corporation
The Ryman Auditorium
Nashville Info
Nashville Airport Info
Flying into
Nashville International Airport
? Be sure to look for our welcome sign!
Ground Transportation
Make your way downtown to the Sheraton via taxi (flat rate of $25 to the downtown area, plus an additional passenger charge of $1 to the same destination), shuttle or rental car.

Now that you are here: There's a lot to do in Nashville. Not sure where to start? Ask yourself …
What Would Dolly Do?
You're a little bit country, right?
Start with breakfast at The Loveless Café -- it's a bit of a drive, but so worth it for those famous biscuits and homemade preserves. On your way back downtown, make a shopping stop at Katy K, where you'll find all the sparkle you'll need. Hit Arnold's Country Kitchen for a good ole meat-and-three lunch before visiting old friends at the Country Music Hall of Fame.
What Would Jack Do?
Or maybe you're a little more rock and roll …
Start the day with a coffee a one of Nashville's fantastic java spots, such as Crema, Barista Parlor or 8th & Roast. Check in on everything at Third Man Records (see suggested tour schedule) -- maybe record a song in the Record Booth -- and cross the river for some lunch at Mas Tacos. Take in some record shopping at Grimey's, Fond Object and The Groove.
What Would Taylor Do?
Young at heart (but not heartbroken)?
Start the day with brunch at Fido in Hillsboro Village. After breakfast, browse the shops on the street, including Pangaea and Posh. If you're really in a shopping mood, hop over to 12South where you'll find tons of cute stuff at Hero, Emerson Grace, Imogene + Willie, White's Mercantile, Cadeau, Leona and MODA. All this shopping may wear you out, so head over to the Oak Bar at the Hermitage Hotel for a grown-up drink and a little downtime.
What Would Willie Do?
Lucky for you, outlaws are still welcome in Nashville.
Long night? Try breakfast at the Hermitage Cafe, where you'll likely dine with new friends who are still going strong from the night before. Stop by Hatch Show Print (see suggested tour schedule) to learn all about the letterpress process, and swing by the adjacent Music City Center where you can visit the virtual Nashville Songwriters Hall of Fame. Hit Rotier's for a burger before heading back to Lower Broad, where you'll meet all of your friends at the one place where everybody fits in: Robert's Western World.
All Dollys, Jacks, Taylors and Willies: We'll see you all at Robert's (welcome party) on July 10th!