Would You Like to See the Kids' Menu?
Alicia Solsman/Metroland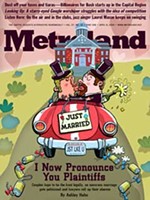 Metroland was founded in 1978 as a monthly entertainment guide; a year and a half later it went weekly, continuing to focus primarily on arts, entertainment and lifestyles. In September 1986, Metroland reinvented itself as a full-fledged alternative newsweekly, offering...
More »