Why Ship Out in the Middle of This War?
Darrow Montgomery/Washington City Paper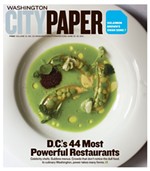 In a city where a great deal of attention is focused on national affairs, Washington City Paper maintains a relentless emphasis on local Washington. City Paper serves as the definitive local guide to cultural and civic life in the District...
More »