White Power Movement Protests Casino Development
Tags:
wetlands
,
California Stop the Casino 101
,
Chip Worthington
,
Elaine Devary Willman. Toppenish
,
Federated Indians of Graton Rancheria and their backer
,
Graton Tribe
,
Greg Sarris
,
Laguna de Santa Rosa
,
One Nation United
,
professor of Chicano Studies at Sonoma State University
,
Rohnert Park
,
Ron Lopez
,
Station Casinos of Las Vegas
,
Wash. chair of a national organization Citizens for Equal Rights Alliance
,
whose associate member groups United Property Owners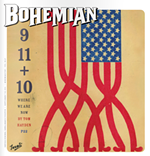 Based in the beautiful Sonoma County wine country, the North Bay Bohemian is steeped in tradition but is by no means stodgy. Its name pays homage to the literary movement that figured prominently in cultural development north of the Golden...
More »