When Will Barack Obama Find His Voice on Iraq?
Alex Wong/Getty Images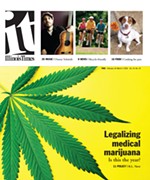 Founded in 1975, Illinois Times has a longstanding reputation for thoughtful news coverage and analysis. In recent years, Illinois Times has also won recognition for its investigative journalism, garnering statewide and national awards, as well as for breaking local and...
More »