What Does it Take to Live Car-free?
Gina Gentile-Moeller/Louisville Eccentric Observer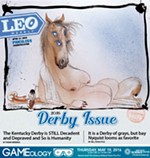 Born in 1990, LEO Weekly is Louisville's alt-weekly. Edgy, urbane and sophisticated, with a dash of wit and an authoritative voice, LEO Weekly and its online component, leoweekly.com, offer the city's most intelligent reads on everything from news and politics...
More »