War of the Energy Worlds
Tags:
Sierra Club
,
San Diego
,
acid-rain-causing nitrogen oxide (NOx) and sulfur dioxide (SOx)
,
cartographer
,
Friends of Nevada Wilderness
,
Progressive Leadership Alliance of Nevada
,
Public Resource Associates
,
Sempra Energy compressed coal-burning plant
,
Smoke Creek Desert
,
supply power to California. David Rumsey
,
the Gerlach General Improvement District and the Pyramid Lake Tribe
,
toxic emissions
,
Washoe County
,
Western Resource Advocates
,
Wildlife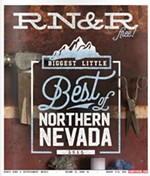 The Biggest Little City in the World has an alternative voice. Since 1995, the Reno News & Review has built a reputation around its provocative, honest coverage of news and events affecting northern Nevadans. Beyond gaming and tourism, this is...
More »