The Deal With the Navy's Treasure Island
Tags:
California
,
Bay Area
,
a political supporter of the mayor
,
and Los Angeles grocery billionaire Ron Burkle
,
Lennar Corp.
,
Mayor Gavin Newsom and his predecessor
,
or TICD. Its principals lobbyist Darius Anderson of Sonoma
,
real-estate megadeal
,
Tony Hall
,
Treasure Island Community Developers
,
Willie Brown.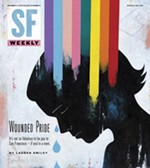 At SF Weekly, we take journalism seriously without getting stuffy about it, make sardonic wit and literary style weekly occurrences, and absolutely cherish political independence. We can inveigh against the Total Information Awareness mindset of the Bush administration, and then,...
More »