Submerged in Summer Reading: Seasonal Reads by Orlando-Area Scribes
Tags:
summer reading
,
Pioneers
,
After Hours at the Almost Home
,
100 Miles
,
78 Days
,
and One Heck of an Adventure
,
and the Home Party
,
Earl Tupper
,
Hiking the Florida Trail: 1
,
Photography of Bruce Mozert
,
Silver Springs: The Underwater
,
The Fortuneteller's Lay
,
The Year of Disappearances
,
Tupperware Unsealed: Brownie Wise
,
Two Pairs of Boots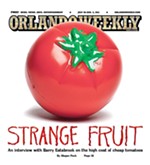 In America's theme-park Mecca, Orlando Weekly recently explored these themes: How a private group of developers pulled the strings that directed public land-use policies. How a millionaire time-share mogul made his money selling bogus promises. How an annual Gay Day...
More »