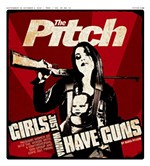 Staff Writer
Position Available at
The Pitch
Posted November 13, 2018
Type of Position: Permanent Full-Time
The Pitch in Kansas City is looking to add a full-time staff writer to its team. This is a news position that requires a unique combination of skills. We're now a monthly magazine that publishes daily content online, but we were born as an alternative weekly, and our editorial approach is still very much rooted in our progressive, muckraking heritage. The ideal candidate is an aggressive reporter — comfortable cultivating government and business sources and making public records requests — as well as a lively writer with an intuition for a good story. Output-wise, it's a mix of shorter online pieces (some reporting, some aggregation) and longform narratives for print. This is not a "cover the city council" type of journalism job (though you occasionally will) nor are we chasing breaking news (though it's nice to beat the daily every once in a while). It is a position with a tremendous amount of creative freedom and no defined beat. But you gotta be able to deliver the goods.

Again: this is a full-time position with a competitive salary and benefits. Serious applicants should email a cover letter, resume, and clips to David Hudnall: david@thepitchkc.com. No phone calls, please.
Respond to this posting via
email
.
The Pitch AAN Member Page »
The Pitch website »