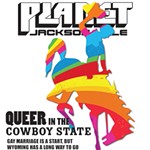 Staff Writer
Type of Position: Permanent Full-Time
Planet Jackson Hole, the first (and only!) alt-weekly in Wyoming, has an immediate opening for a full-time staff writer.

We're looking for a seasoned reporter with a creative edge; someone who is industrious and stubborn, with a keen interest and ability to dig up good news stories in a state with more elk than people. (Trust us; it can be done.) The right person for the gig also has experience writing longform features, and can easily balance both ends of the reporting spectrum.

About us: Our newsroom is small but old school -- we still value print, and we aren't going to grind our reporters about blogging and clicks. Our digital presence is important, of course, but the main focus of the Planet is the paper. We are situated in Jackson, Wyoming, one of the most beautiful places in the country. Jackson is the gateway to several national parks and has a vibrant skiing, snowboarding and outdoor scene.

Interested candidates should email a cover letter, resume and a handful of their best news clips to editor@planetjh.com for consideration.
Respond to this posting via
email
.
Planet Jackson Hole AAN Member Page »
Planet Jackson Hole website »