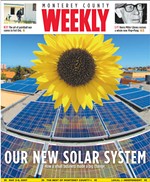 Staff Writer
Type of Position: Permanent Full-Time
Monterey County Weekly has an immediate opening for a staff writer/ utility infielder.

We need someone who is a critical thinker and an excellent storyteller -- someone who is looking for the opportunity to shine reporting on news, arts and personalities. Our county is now over 50-percent Latino and Spanish language skills are a plus. Digital fluency, multimedia and podcast experience further enhance the likelihood of hire.

We pay competitively, offer a great benefit package and treat journalists like human beings.

To apply address a letter of inquiry with resume and clips to our editor Sara Rubin at Sara@MCWeekly.com

About Monterey County Weekly:

Monterey County Weekly is the big fish in a beautiful pond. As the largest circulation newspaper in one of the most spectacular counties in America, Monterey County Weekly has long been recognized for its thoughtful, provocative and engaging coverage of news, arts and entertainment. Founded in 1988, the newspaper has received scores of California and national newspaper awards over the past 28 years. In 2015 the Weekly won the Free Speech and Open Government award from the First Amendment Coalition. In 2012 the paper earned First Place, General Excellence, from the California Newspaper Publishers' Association (also Second Place, General Excellence 2013), for all large circulation weeklies. Good journalism has proved to be good for business too, as Monterey County Weekly today vastly out-circulates the Digital First (Media News) and Gannett-owned daily papers in the market.

By almost any measure Monterey is a desirable market. The circulation area of Monterey County Weekly includes Big Sur, Pebble Beach, Carmel, historic Monterey and the expansive Salinas Valley. With a growing state university (CSU Monterey Bay), expanding science exploration in the Monterey Bay, a multi-billion dollar ag industry as well as regional impacts from Silicon Valley, the county is in a compelling time of growth and transformation. There are great stories to be told in this market, and the Weekly and its prodigious digital platforms, is leading the community in framing those conversations.


Respond to this posting via
email
.
Monterey County Weekly AAN Member Page »
Monterey County Weekly website »