Should Hip Parents Worry Less About Being Hip and More About Being Parents?
Uli Loskot/Baltimore City Paper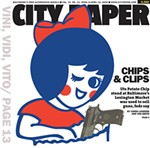 Founded as City Squeeze in 1977, City Paper is Baltimore's dominant newsweekly. The paper targets active, well-educated, 21-49 year olds attracted to our contemporary coverage of current affairs, politics, lifestyles, the cultural arts and entertainment. Well known for the area's...
More »