Plan To Withdraw Water From a Fla. River Sucks. Literally.
Ken Garduno/Folio Weekly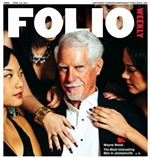 Northeast Florida's largest circulation newsweekly is also its most influential. Since 1987, Folio Weekly has been the leading alternative voice in this booming market -- one of the fastest growing in the nation. Folio Weekly offers the area's most comprehensive...
More »