Naturopath Integrates Her Native Traditions
Tags:
Oregon
,
herbal medicine
,
and allergy testing and desensitization
,
BC First Nations Health Handbook
,
Coast Salish First Nation's Sliammon band near Powell River
,
herpes
,
homeopathy
,
musculoskeletal therapies like cranial-sacral bodywork
,
National College of Naturopathic Medicine in Portland
,
nutrition
,
Health & Science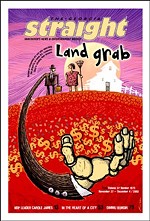 The Georgia Straight has been an integral part of life in Vancouver B.C. for over 43 years. In addition to feature stories on everything from politics and social issues to local underground musicians and artists, every issue includes details on...
More »