Is 'Run' the Strategy Against Firestorms in California?
Ted Soqui/L.A. Weekly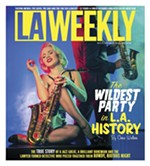 With hard-hitting investigative stories, spirited criticism and provocative cultural coverage, L.A. Weekly has become the nation's most widely read alt-weekly — and an important voice in Los Angeles. The paper's writers have dominated the L.A. Press Club's Journalist of the...
More »