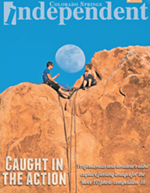 GENERAL MANAGER/CHIEF REVENUE OFFICER
Type of Position: Permanent Full-Time
COLORADO PUBLISHING HOUSE

The locally-owned Colorado Publishing House seeks a dynamic, passionate leader for the position of General Manager/Chief Revenue Officer. Our company's motto: "Have Fun. Do Good. Make Money."

We currently publish 7 award-winning newsweeklies – and their companion digital platforms -- including the Colorado Springs Independent, the Colorado Springs Business Journal, The Pikes Peak Bulletin as well as three newsweeklies on local Air Force and Army bases. Last year our non-profit arm, Give!, helped 75 local non-profits generate more than $1.5M dollars via donations from 8,000 individuals.

In February 2019 we will launch the Southeast Express, our 8th newspaper that will be mailed to 30,000 households.

The GM/CRO will be responsible for:
· Developing and driving revenue across all platforms and publications.
· Helping our two group publishers manage and empower our dedicated staff members.
The ideal candidate for GM/CRO will have a strong background in sales leadership and a skillset that reflects both tactical and strategic abilities. Experience working with different types of publications and platforms is a plus.

The GM/CRO will work with sales leadership and sales executives to capture the huge revenue potential in this fast-growing western market. While revenue will be the primary focus of the GM/CRO, a candidate with the right background and abilities may assume greater responsibilities within the company including promotion/marketing, circulation, finance and business operations.

The culture of Colorado Publishing House is very entrepreneurial, diverse and journalistically-driven. We are passionate about our community and the important role good, local newspapers play.

To apply, send cover letter and resume to Carrie Simison carrie@csindy.com.
Respond to this posting via
email
.
Colorado Springs Independent AAN Member Page »
Colorado Springs Independent website »