Freddy Haynes Seemed a Shoo-In to Lead the NAACP ... So What Happened?
Courtesy of Friendship West Baptist Church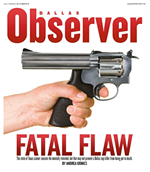 You might think that it was one of those thorny ethical conflicts. How would the Dallas Observer behave when its tough-talking former city columnist became mayor? Would we join her team? Be her pals? Suck up? Or would we keep...
More »