Dean Wins! How Howard Dean Became President of the U.S.
Jeff Glagowski/New Haven Advocate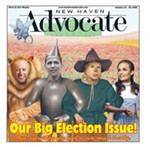 Since 1975, the New Haven Advocate has served as both the cultural guide and the main source of investigative journalism in the area. It has broken major stories about municipal corruption, brain cancer at Pratt & Whitney and predatory debt...
More »