Dealing With Depression Is Everyone's Business
Tags:
antidepressants
,
Canada
,
St. Johnswort
,
World Health Organization
,
and repetitive transcranial magnetic stimulation
,
Brain Research Centre
,
chief executive officer of Coast Capital Savings
,
disability adjusted life years
,
estrogen or testosterone
,
Lloyd Craig
,
mental health care
,
Health & Science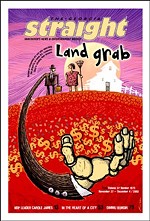 The Georgia Straight has been an integral part of life in Vancouver B.C. for over 43 years. In addition to feature stories on everything from politics and social issues to local underground musicians and artists, every issue includes details on...
More »