Are Skyscrapers Sun Blockers or Space Savers?
Joshua Meles/NOW Magazine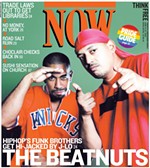 NOW Magazine - winner of the Utne Reader 2001 Readers Poll Award for Local Coverage - is Canada's leading alternative news and entertainment weekly, and has been since its inaugural issue in September 1981. Over the years NOW's weekly readership...
More »