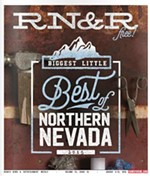 Advertising Manager
Type of Position: Permanent Full-Time
The Reno News & Review (RN&R) is hiring an Advertising Manager to lead our dynamic sales team. We're seeking a leader who loves sales, knows Reno, enjoys going out into the field, and is a great human being. Someone who cares both about the staff and the bottom line, who knows that every department and every person at the paper is important, and who brings a passion to work.



Published weekly since 1977, the award-winning News & Review provides the greater Chico, Sacramento, and Reno areas with a lively mixture of news, features, commentary, arts and a calendar of events. Our publications reflect our work environment: decidedly NOT corporate, yet an effective foundation of passion and professionalism topped off with an edgy but laid-back attitude.



The News & Review is is proud to celebrate and exercise inclusion, free thinking, and equal opportunities in all aspects of our company structure. We prioritize creating workplaces that reflect the diversity within the communities we serve and where everyone can be their true, authentic self.



Our mission is to publish great newspapers which are successful and enduring, create a quality work environment that encourages employees to grow while respecting personal welfare, and to have a positive impact on our communities and make them better places to live.



Reporting directly to our president, the Ad Manager will lead, coach and inspire a diverse and talented team and be responsible for overall growth and profitability of the display sales department, including events and promotions. A successful candidate will establish sales goals, identify new markets and coordinate logistics associated with the weekly publication of our paper. Must:



Believe in the News & Review mission and goals

Understand the Reno / Tahoe / Northern Nevada market and be able to identify local prospects

Develop and grow special publications

Communicate effectively and demonstrate excellent closing skills

Lead by example

Enjoy developing team members

Regularly go on sales calls with reps

Bring a positive attitude and sense of humor to work every day

Enjoy sales and enjoy motivating staff to sell

Respect the various talents of others and understand that the paper only succeeds because of the efforts of people in a wide variety of positions

Have a conceptual understanding of how to use print advertising design to create success for clients

Ideal candidates will have a solid background in advertising and a minimum of 2 years in a sales management capacity. Print experience is a plus. Strong track record of success in sales management and leadership.

Experience with staff recruitment, retention, training and team-building.



We offer a competitive compensation plan, which includes a base salary, plus eligibility for growth and performance bonuses, and comprehensive benefits including medical, dental, vision, paid time off, and a 401(k).



If interested and qualified, please apply via the Indeed link, below. Applicants who do not follow this application process will not be considered.



Apply through Indeed.
https://tinyurl.com/yd44kp5k



Through Indeed, please submit your resume, salary requirements and a thoughtful cover letter that includes answers to the following:



1) Why are you interested in working for the RN&R?

2) Why do you enjoy selling?

3) How do you inspire others to do their best work?

4) If you could change one thing about the RN&R, what would it be?

5) How would you sell RN&R to clients? What are the benefits of advertising with RN&R, as you see it?

6) Tell us something unique about yourself that we can't learn from your resume.



This is a regular in-house position. No remote work. No telephone calls, including agency reps, please. This position will remain open until filled.



Hiring is contingent upon a positive background check. Must have a valid, current driver's license, personal auto insurance and daily access to a vehicle.
Respond to this posting via
email
.
Reno News & Review AAN Member Page »
Reno News & Review website »