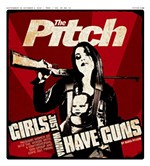 Account Manager
Position Available at
The Pitch
Posted September 17, 2019
Type of Position: Permanent Full-Time
The Pitch is looking for someone to join our team!

The ideal candidate will be able to conduct a needs analysis and sell a variety of print and online services across all Pitch platforms. This will include food week events, live events, online promotions, print advertising, email newsletters, sponsored content, digital sponsorships and more.

Responsibilities

-Build and manage a book of business with national and Kansas City-based advertisers.
-Hit sales goals set monthly
-Create and maintain relationships with customers to better understand and achieve their needs
-Attend Pitch events and assist director of marketing with tasks related to live events.
-Manage creative requests from clients using existing processes set in place.
-Update the Hubspot CRM with pertinent notes related to clients and sales.
-Meet print and digital deadlines
-Collect payments or credit card information from clients


Qualifications

-Previous account management experience
-Previous local media sales experience
-Google Docs
-Hubspot
-Demonstrate articulate writing and phone skills
-Ability to cold call successfully
-Articulate and well accustomed to a client facing role

Benefits:

Pays base salary & commissions with ramp-up pay
Benefits package available including health insurance
Flexible time off! Take the vacation of your dreams. We just ask that you get your job done.
Unlimited mediocre coffee
Other random Pitch perks may be included!
Respond to this posting via
email
.
The Pitch AAN Member Page »
The Pitch website »